At Gambusia Solutions, we have spent years developing knowledge and experience in how to properly design systems for successfully raising koi fish in a closed aquatic system.  Then we applied that knowledge to the vector control industry to develop the Elite Filtration and Tank System.  Our purpose is simple:  To make it easy, affordable and sustainable to raise your own gambusia.  The overall principles for successfully raising fish are simple: keep the water clean and the fish healthy.  Our top of the line products are designed to do just that.
Gambusia Solutions Highlights
Clean Fish Ready – Because of the modular tank and filtration design, you can raise, medicate, hold and winter a full stock of clean healthy fish and keep them separate from any wild harvested fish
Conserves Water – Our recirculation and filtration system minimizes waste and maximizes cleanliness of one of our most precious resources.
Easy to Use – Integrated features in the tank and filter systems to make supporting your gambusia program easier.
Sustainable – Raise, hold, birth, winter, repeat. Ramp up or down production with our heating solutions to keep your fish reproducing for more months out of the year.
Energy Efficient – A single speed, high volume/low head pressure pump designed for 24hr closed system water circulation.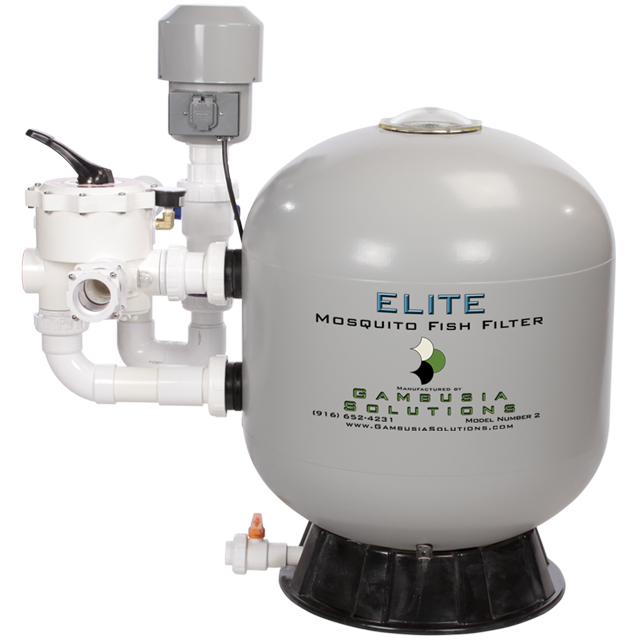 The Filtration System
The Elite Filter – An oversized high efficiency bead filter that is both a mechanical and biological filter in a single unit. The Elite Filter is second to none in both performance and ease of use.  You will never need to change the internal filter media!
Ultraviolet organic matter control – A powerful 80-watt high output lamp is used to kill algae, bacteria and parasites too!
Performance Pro Pump – The workhorse of the filtration system, the Performance Pro Pump is high efficiency and built to last. It's energy efficient too! The standard 1/4 HP model only draws 2.7 amps at 115v input.
Electrical Control Tower – Pre-wired and ready for use to simplify installation and operation. Plug all the components into the four outlets provided at the bottom and operate with the two integrated switches at the top.  Easy breezy.
The Tank System
Built to Last – Constructed of steel-reinforced fiberglass and finished with a special UV resistant gel coat, these tanks are built to last. They can be installed indoors or outside, it's your choice!
Modular Design – Each tank holds 800 gallons of water and uses a modular design so your district can expand the solution to fit your specific needs.

One filter system can support up to two holding tanks
Build out additional filter/tank combos to support your operations

Plug and Play – Easy plumbing connections with only 4 pipes to connect when your tank is delivered. We pre-assemble all the tank solutions so it's ready for use as soon as possible.  Assemble yourself or use our installation services.
High/Low Suction – By pulling water from both the tank bottom and the water surface, there is less cleaning required and surface organics for you to deal with.
Birthing System – A system to provide a sanctuary for your gambusia to safely birth their fry and provides protection from the adult fish until the fry can be collected and moved to a grow out tank.
Tank Dividers – Made from a cast epoxy frame and stainless steel screen, the tank dividers will isolate your growth stock during the different phases of their lifecycle. Use the tank dividers to turn a standard tank into a grow out tank.